Here is the mission name inside the yellow box.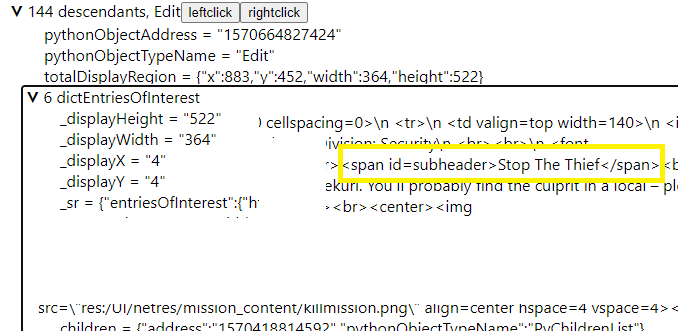 The whole mission window text is stored into
missionName =
                                missionAgentWindow.uiNode
                                    |> EveOnline.ParseUserInterface.listDescendantsWithDisplayRegion
                                    |> List.filter (.uiNode >> .pythonObjectTypeName >> (==) "Edit")
                                    |> List.head
                                    |> Maybe.andThen (.uiNode >> .dictEntriesOfInterest >> Dict.get "_sr")

I am interested in this specific line:
<span id=subheader> (MISSION NAME HERE) </span>
I want to extract the mission name to store it.
Here is my regex that should work but maybe elm regex has limitation that I am not aware of.
Regex.fromString "(?<=<span id=subheader>)(.*)(?=<\\Sspan)" |> Maybe.withDefault Regex.never

I cannot get the regex to extract it.
I spent way too long trying to figure out what is wrong. Any help could be greatly appreciated.
Here is the regex : regex101: build, test, and debug regex